Mary McLaren 'led' man accused of killing her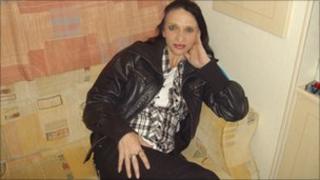 A woman who was allegedly raped and murdered after a night out, was seen walking closely with a man and could have been leading the direction of travel, a court has heard.
Mary McLaren, 34, disappeared after going to Fat Sam's nightclub in Dundee in February last year.
CCTV footage has revealed she walked past a line of waiting taxis with murder accused Patrick Rae, 41.
Mr Rae denies raping and murdering Mrs McLaren.
He also denies hiding her body and getting rid of a knife or similar item.
Defence advocate Mark Stewart QC put it to Tayside Police inspector Wayne Morrison that Mrs McLaren appeared to have her arm extended or raised in some CCTV images displayed to the court.
He said: "The indication is that she is directing the travel. Is that one interpretation?"
Insp Morrison replied that was possible.
'Dark figure'
Addressing images which appeared to show Mrs McLaren walking up an alleyway with Mr Rae - known as Rattray's Close - that was not a thoroughfare, the defence advocate asked the inspector why the pair would have taken that route.
Mr Morrison said: "It is an access way if you are going to the Cyrenians."
Footage shows the couple up until about 0247 GMT at the Ladywell roundabout in Dundee.
Further images of a dark figure can then be seen around the Cowgate area and then Mr Rae is seen walking towards the Shell Garage in Allan Street at 0451 GMT.
The court heard from former Shell garage worker Graham Begg, 27, who said his attention had been caught by a man who came into the garage in the early hours of the morning.
When asked by advocate depute David Young QC why his attention was drawn to this customer he said: "The way he was acting in the shop, he kept looking behind him and never made eye contact or spoke.
"He kept looking out the window. He had a cut over his eye and he was covered in mud. The cut was above his left eye. He had mud on his hands, his coat and his jeans."
The court also heard from Robert Reid, 46, who said he had known Mr Rae from the Clinterty site for Travellers near Aberdeen.
He said on the evening in question he had been drinking with the accused and others at various bars in Dundee and that they decided to go to a nightclub.
Mr Reid said they had become separated so he went back to sleep at a family member's flat.
Mr Rae denies raping and murdering Mary McLaren between 25 February and 10 March last year at North Marketgait and elsewhere in Dundee.
He has lodged a special defence of alibi and consent. The trial before Lord Tyre continues.