Mary McLaren case: murder accused 'frightened' woman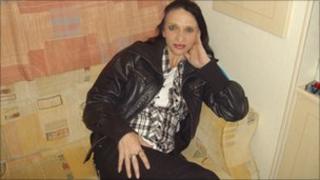 A woman has told a court she became frightened after being chatted up by an alleged murderer in a Dundee pub.
Gillian Neilson, 43, was giving evidence at the trial of Patrick Rae, 41, who is accused of raping and murdering Dundee mother-of-three Mary McLaren.
Mrs McLaren, 34, vanished after a night out at the city's Fat Sam's nightclub in February last year.
Mr Rae denies raping and murdering Mrs McLaren.
Ms Neilson said she went to the Balmore Bar at Dura Street in Dundee on 24 February 2010 and started chatting to Mr Rae.
She told the High Court in Edinburgh: "He just came over and sat down, and the reason me and my friend got talking to him was because he started changing from a pair of boots into a pair of shoes.
"I realised he spoke with an Irish accent and I made a comment to that, like 'You are Irish - I like the Irish accent'."
Ms Neilson told advocate depute David Young QC he had offered to buy her a drink but said she had refused because she didn't have money to buy him one back.
'Shiny hair'
"We said 'thank you, but no'. He kept talking to me and made a comment about my hair, saying my hair was pretty, so shiny and I was an absolutely stunning person.
"I didn't feel threatened at that moment but he kept going on about how beautiful I was and then he started singing part of the song, Molly Malone. He asked why I liked the Irish and I said I was a Celtic fan," said Ms Neilson.
She told the court that initially she had thought he was a nice person but that he kept asking her to take a drink from him and also began to insist she accompany him to a disco.
Ms Neilson said he offered to pay for her into the club, buy her drink and get her home.
She said: "He asked if we both had a man and we both said 'yes' and he said 'what your man doesn't know won't hurt him', and I said 'what I know would hurt me'. I got frightened."
Ms Neilson added that he had eventually left.
Mr Rae denies raping and murdering Mary McLaren between 25 February and 10 March last year at North Marketgait and elsewhere in Dundee.
He has lodged a special defence of alibi and consent. The trial before Lord Tyre continues.