Lifeboat in father and son North Sea rescue at Arbroath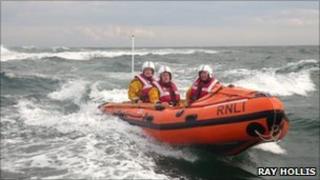 A 15-year-old holidaymaker and his father have been rescued from the North Sea after a water scooter incident.
The boy got into difficulties in the water off Arbroath after coming off the craft on Sunday afternoon. He was then separated from the water scooter by the tide.
A crew from the RNLI Arbroath lifeboat was called out to rescue him.
The boy's father, who swam from the shore in an attempt to rescue him, also had to be pulled from the water.
The teenager, who had suspected hypothermia, was taken to Arbroath Infirmary for treatment.
A lifeboat spokesman said: "The father's natural instincts kicked in and he did what is not recommended and jumped in the waters to swim out from shore to try and help his son, but he then got into difficulties himself, therefore giving the RNLI a second casualty to rescue.
"Both father and son are believed to be safe and well and are back enjoying their holiday."