Dundee artist searches for 'Nirvana busker'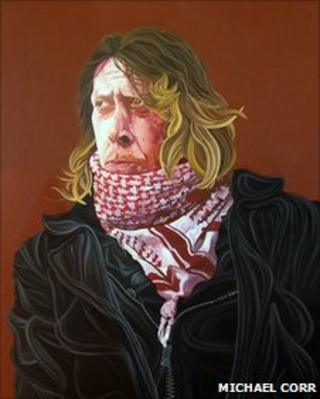 An artist is searching for one of Dundee's regular buskers who has "vanished" after he painted a portrait of him.
Michael Corr said Alan - known as the "Nirvana Busker" - had been a familiar face in the city for years, but had disappeared about two months ago.
The Duncan Jordanstone College of Art graduate, 24, said he wanted to find Alan to show him the finished painting.
The busker agreed to sit for the portrait last year.
It was completed in the last few days but Mr Corr said he had no way of contacting Alan. The oil-painted portrait has been titled Busked.
He told the BBC Scotland News website: "I came to Dundee in 2006 to go to the uni.
"Since coming here he's just been one of these faces that's always been in the background."
Mr Corr, who is originally from Campbeltown, said he had been drawn to Alan by his "weathered looking face". He had intended to enter the painting into the BP portrait competition, but missed the deadline.
He now hopes to enter the portrait into another competition, but said he wanted to show the busker first.
Busker Alan is well-known in Dundee for playing Nirvana tracks on his guitar outside Marks and Spencer in the city centre, and Mr Corr described him as an "older version of Kurt Cobain".
The artist added: "He was there every day from nine till four, but I haven't seen the guy for about two months. He just seems to have vanished."