Dunblane man accused of attempting to rape 76-year-old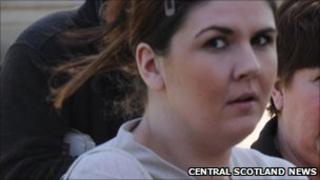 A man has gone on trial accused of attacking and attempting to rape a 76-year-old grandmother after getting into her home by pretending to be a carer.
Ryan Liddell, 20, is charged with assaulting the woman in her first floor flat in Dunblane, Perthshire, on 14 June last year.
It is alleged he left her severely injured, permanently disfigured and impaired by the attack.
Mr Liddell, from Dunblane, denies the assault and attempted rape.
Carer Leanne Aagesen, 22, told the High Court in Dumbarton that she visited the woman every weekday morning.
She said she assisted the woman with showering, dressing, gave her medication and helped her put on her surgical stockings.
Ms Aagesen said: "I would just go and chat away to her. She was quite unsteady on her feet and I was there partly in case she forgot her medication. She was also hard of hearing and wore a hearing aid."
She told the court that the woman was "really friendly and really trusting".
'Blood staining'
Ms Aagesen said the woman would often leave her door unlocked so that the carer could come in, and that she'd be found sitting in front of the television. She described the woman's home as "neat and tidy".
She was shown pictures taken by scenes of crime officers from the women's house the day of the alleged attack, including a floral skirt and pants lying next to the living room window.
She said: "These clothes look like they've been thrown down but she was quite particular and her clothes were always neatly folded. From my time with her, I never saw clothes like that lying on the floor."
The carer also told advocate depute Jennifer Bain that she had not been concerned for the woman's health or been aware of any injuries the last time she had seen her before the alleged attack - about two days previously.
Alistair Dornan, 42, a Central Scotland Police scenes of crime officer, examined the woman's home at midday on the day she was attacked.
He said he had found a yellow t-shirt, a skirt, a slip and pants in a pile on the ground next to the woman's window in the living room, with a packet of cigarettes lying next to them
Ms Aagesen had earlier told the court that the woman didn't smoke.
Mr Dornan said there was a broken pair of glasses next to the fireplace. He also told the court there seemed to be "some blood staining" on items found lying on the floor in the living room.
The trial before Lord Uist, which is expected to last several days, continues.