Perth man kept 'mini zoo' in static caravan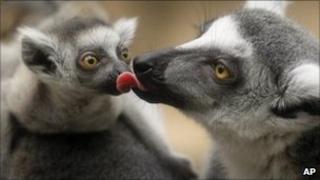 A dealer who tried to sell endangered ring-tailed lemurs over the internet was found to be living in a caravan packed full of exotic wild animals.
Officers discovered crocodiles, monkeys and snakes during a raid on the static caravan near Perth, a court heard.
Plumber Keith Colthart, 24, admitted trying to sell two protected animals through the Ad Trader website.
The sheriff deferred sentence for the Crown to provide further information on lemur numbers.
Perth Sheriff Court heard how police and the Scottish Society for the Prevention of Cruelty to Animals (Scottish SPCA) officers found the ring-tailed lemurs in the caravan, along with three African dwarf crocodiles, monkeys and a spectacled caiman.
They also discovered nine snakes, including pythons and boa constrictors.
Colthart, from Wishaw, now faces being fined up to £10,000 or a maximum three-month prison sentence.
'Host of animals'
He admitted a charge of trying to sell two ring-tailed lemurs on 30 December 2010 from his then home at Gloagburn Farm, Tibbermore, near Perth.
Fiscal depute Stuart Richardson, prosecuting, told the court that word had reached the Scottish SPCA that the accused had advertised the lemurs for sale and that he did not have a special licence to keep the animals.
He said: "Mr Colthart was living in a static caravan in a rural part of Perthshire at the time. Once they gained admission to the caravan they discovered in it a host of animals including dwarf crocodiles, a caiman and monkeys."
"All of the other animals were covered by a Dangerous Wild Animals licence. He had one of those. Unfortunately, also in the caravan were the two ring-tailed lemurs he did not have a licence for.
"The need for the licence is because the animal is classified as near-threatened. The species is thought to be at serious long-term risk and that's why its name has been added to the list of animals which require this licence."
Sheriff Robert McCreadie said: "It is difficult to evaluate the seriousness of the issue unless I know a little bit more, like how highly endangered the lemurs are."
"I feel I would need to know a bit more about that before I could reach a view on sentence."
Colthart was not present in court.