Bracklinn Falls bridge up for international award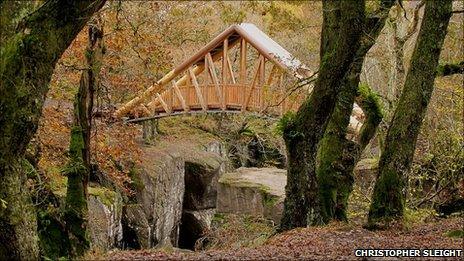 A footbridge across one of Scotland's best-known waterfalls has been nominated for an international award.
The bridge across Bracklinn Falls, near Callander, replaced one washed away by floods in August 2004. It was opened in November 2010.
Built with timber and copper, it weighs 20 tonnes and cost £110,000 to install.
It has been nominated for the International Footbridge awards and faces competition from bridges in the US, England, Portugal and South Africa.
The structure, designed and built by Strong Bridges Ltd, is being considered in the "Aesthetics Short" category.
Kenny Auld, from the Loch Lomond and the Trossachs National Park, said the nomination was a "real honour" that was "thoroughly deserved".
"Although the bridge is up against strong competition, we are really proud of what all partners have achieved in the installation of such a stunning structure that has made a huge difference to both visitors and residents living in the national park."
The bridge project was a partnership between the national park and Callander Community Development Trust.
Because of the location of the gorge - deep in mature woods with no road access - the use of cranes or helicopters to install the bridge was impossible.
Contractors built the structure next to the gorge after the materials, including four Douglas Fir tree trunks, were delivered by quad bikes and four-wheel drives.
The bridge was then placed on steel skids and hauled across the 20m (66ft) wide gorge by hand. In total, it took 3,000 man hours to build and put in place, the national park said.
Other bridges up for nomination in the category are:
Buitengragt Pedestrian Bridge, Cape Town, South Africa
Castleford Footbridge, England
Glass Bridge, Lisbon, Portugal
Hillhouse Pedestrian Bridges, New Haven, CT, US
The winning projects will be announced at the Footbridge 2011 Conference in Wroclaw, Poland, on 6 July 2011.
Related Internet Links
The BBC is not responsible for the content of external sites.