Mary McLaren murder accused 'had no injuries'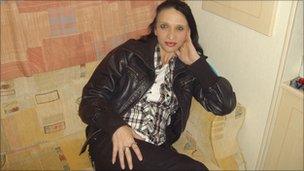 A man accused of raping and murdering a 34-year-old woman had no marks on him to suggest he had been injured in an altercation, a court has heard.
Dr David Sadler said he had examined Patrick Rae after he went voluntarily to police eight days after the disappearance of Mary McLaren.
The mother-of-three went missing after a night out with her sister at the Fat Sam's nightclub in Dundee.
Mr Rae, 41, denies raping and murdering Mrs McLaren.
Forensic medical examiner Dr Sadler told the High Court in Edinburgh that Mr Rae had numerous scattered pinpoint abrasions on the back of his hands and fingers.
Dr Sadler said the accused had told him they were from dealing with foliage in his job as a gardener.
There was also a scratch on his upper right arm and small scratches on the upper shins of his legs, the court heard.
The medical examiner said the scratches were consistent with what Mr Rae had told him about his work.
Dr Sadler said he had been directed to Mr Rae's head and scalp by police officers, but his examination had found no identifiable injuries.
He said that Mr Rae had told him he had injured his head in a fall and that when he was examining his head there was a reaction which indicated tenderness.
Mark Stewart QC, defending, put it to Dr Sadler that there was nothing to suggest Mr Rae had been subject to injury by another person or in the course of an altercation. The doctor agreed that was correct.
He also agreed that the injuries he had found were consistent with gardening work and that the marks on Rae's legs could have been caused by the tightness of his Wellington boots.
Mr Stewart asked the doctor that if it was suggested Mr Rae had a cut above and below the eye on 25 February which resulted in blood pouring down his face, would he have expected to see some mark during the examination.
Dr Sadler answered: "I would have expected an injury which drew blood to take a long time to heal.
"I would have seen it after eight days. Some people heal differently, but I would have expected to see it."
Mr Stewart said: "There was no such mark on Mr Rae?"
Mr Rae denies raping and murdering Mary McLaren between 25 February and 10 March 2010 at North Marketgait and elsewhere in Dundee.
He has lodged a special defence of alibi and consent. The trial before Lord Tyre continues.
Related Internet Links
The BBC is not responsible for the content of external sites.