Mary McLaren murder accused admits lying to police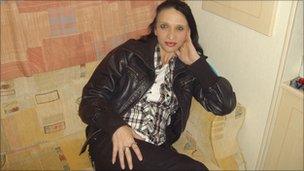 A man on trial for the rape and murder of a mother-of-three has admitted lying to police investigating her disappearance.
Patrick Rae, 41, also admitted having sex with Mary McLaren after the pair met in a nightclub in Dundee.
He was giving evidence at the High Court in Edinburgh where he denies the charges against him.
Mrs McLaren's body was found in March 2010, two weeks after she went missing.
Mr Rae described to jurors how he met the 34-year-old woman at Fat Sam's club in the city on 25 February after a drinking session.
He told the court that he and a friend had gone on a drinking spree.
He said the pair had become separated at Fat Sam's, where he met Mrs McLaren and her sister.
He said he and Mrs McLaren had been chatting and dancing and had later found a dark corridor to have sex before returning to the dance floor at the club.
After the club closed, he said she had walked him through Dundee and cut her head after stumbling round a corner.
He said she had then left him after he became sick.
Under cross examination, he admitted lying to police.
He said he did not think it was important to tell them he had sex with Mrs McLaren and gone on from the nightclub with her because he was trying to rekindle his own relationship.
He told the court that he did not think it was important as he assumed she would turn up safe and well.
Mr Rae is accused of repeatedly punching Mrs McLaren on the head and striking her head and body on the ground.
He is also said to have repeatedly struck her on the neck with a knife or similar instrument, placed a piece of fabric or similar item over her throat, seized her by the throat and compressed it.
Mr Rae denies attempting to defeat the ends of justice by hiding her body under leaf litter and foliage, disposing of her coat and bag, getting rid of a knife or similar instrument and of clothing worn by him.
He has lodged a special defence of alibi and consent.
Related Internet Links
The BBC is not responsible for the content of external sites.