Hollywood to Alloa for Kirk minister Sang Cha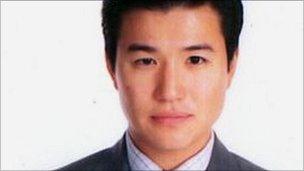 A former Hollywood agent who swapped a multi-million dollar celebrity lifestyle for the pulpit is set to be inducted to his first parish.
Sang Cha is being ordained as a Church of Scotland minister at St Mungo's Church in Alloa, Clackmannanshire.
But before entering the ministry, the 34-year-old said he earned $3m a year working with actors including Juliette Lewis, Giovanni Ribisi and Sean Austin.
Mr Cha is also the first Korean to be ordained by the Church of Scotland.
Born in Seoul, South Korea, Mr Cha moved to New Jersey in the US when he was eight.
On finishing university he went to California to work as a showbiz agent.
He said: "I had two pagers and one mobile phone and worked 85 hours a week.
"It was a manic lifestyle, spent going through piles of scripts. You had to be 'on' at all times.
"I felt I had lost my ideals. When I went to Hollywood I wanted to be a social commentator but it came to be about the next jaguar or the next deal."
In 2002, Mr Cha said he left Hollywood to pursue a different course.
He spent a year in Alaska working for voluntary organisation AmeriCorps.
After that he began studying at Cambridge University before going on to New College in Edinburgh where he took up his training for the ministry.
He said: "I renounced at that time all the money, power and success associated with the Hollywood way of life.
"In the Church of Scotland the most one can ever make is £30,000 per year so I chose this path with my eyes wide open.
"It was not a hard decision as money never fascinated me much in any case but it does make a change from having hundreds of thousands of dollars at your disposal."
Mr Cha is the first Korean to be ordained by the Church of Scotland, 100 years after the Bible was translated into his native language by Kirk missionary John Ross.
He said it was "humbling".
He added: "I'm very close to my parents and for them it means a great deal - it is a historic moment for them and very humbling for me."
Mr Cha is due to be ordained at St Mungo's Church in Alloa at 1900 BST on Thursday.
Related Internet Links
The BBC is not responsible for the content of external sites.