Pensioner rape bid prosecutor calls attack 'senseless'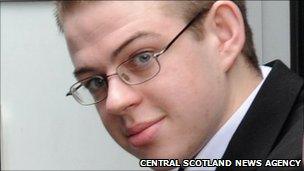 A man carried out a "senseless and brutal attack" on a 76-year-old woman in order to have sex with her, a jury has heard.
In her closing speech, prosecutor Jennifer Bain said Ryan Liddell set out to batter the Dunblane pensioner into submission.
The 20-year-old denies assaulting the 76-year-old with intent to rape.
Jurors at the High Court in Dumbarton have retired to consider their verdict in the case.
Mr Liddell denies entering the woman's home in Dunblane, Perthshire, pretending to be there to perform care duties for her, and assaulting her with intent to rape.
It is alleged that the attack, on 14 June 2010, left the woman severely injured, permanently disfigured and impaired, and endangered her life.
Ms Bain told the court that Mr Liddell "couldn't care less about the attack" as he had returned home after the incident and eaten chips.
The advocate depute told the jury: "This is the home where this woman lived independently.
"This is the home where the victim entertained her friends and family.
"It was also the home where was she was brutally attacked, and that she can now no longer return to."
Jamie Gilchrist QC, defending, acknowledged that jurors might find it hard to empathise with what Mr Liddell had said in the witness box after he admitted being in the woman's flat and hitting her.
He added: "It is obvious that all of the tragic consequences that befell her are undeniably his fault.
"He is responsible for the injuries."
But Mr Gilchrist said there were issues about the "reliability" of the victim's evidence, as she suffered from vascular dementia.
He said: "If you find him, as I believe you will, guilty of assault then you have to consider the various aggravations."
He said he believed the jury would find Mr Liddell guilty of assault to severe injury, and to her permanent disfigurement and impairment, but that they should not convict him of endangering the woman's life or intent to rape her.
Mr Liddell is also accused of breaching a curfew imposed as part of his bail conditions in the case.
The jury of seven men and eight women will continue their deliberations on Thursday.
Related Internet Links
The BBC is not responsible for the content of external sites.