Denny town centre demolition date announced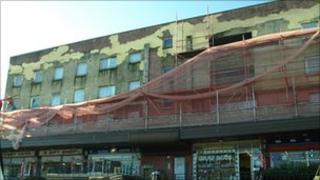 A demolition company has been appointed to pull down buildings in Denny as part of the regeneration of the town centre.
Falkirk Council said the partial demolition of Block A, opposite the Post Office, would start on 15 August and take about 12 weeks.
Work on removing block "D" will begin in January 2012 and also last for about 12 weeks.
Campaigners in the town have complained fiercely about the repeated delays to a revamp first proposed in 2004.
The protests have focused on the crumbling 1960s Church Walk blocks, which have been described by Denny residents as an "eye sore".
Central Demolition has been appointed to carry out the work, which will lead to the closure of Davies Row for about six weeks during each phase of the operation.
'Long wait'
Falkirk Council said temporary arrangements would be made to give continued access to retailers on the street.
Craig Martin, leader of Falkirk Council said: "This is real progress for the town and it is now only a matter of weeks before the demolition work starts.
"I'm additionally pleased that the contract has been successfully secured by a local company helping to support jobs in the Falkirk area.
"It has been a long wait for the town but we are pleased that the local community has persevered and can now celebrate the start of the real work to transform the centre into a modern and attractive location."
Mr Martin said a new regeneration office was being set up at 97 Church Walk.
It will be open every Tuesday morning from August and will enable members of the local community to speak directly to staff dealing with the regeneration.