Woman airlifted after Campsie Fells fence fall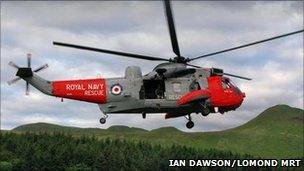 A woman has been airlifted to hospital after she injured her knee while climbing over a fence on the Campsie Fells in rural Stirling.
Lomond Mountain Rescue Team said the woman had fallen "awkwardly" and was unable to walk any further.
The team were called out by police to to Slackdhu, overlooking Strathblane, at about 1515 BST on Tuesday.
A Royal Navy helicopter took the injured woman to the Southern General Hospital in Glasgow for treatment.
A spokesman for the team said: "Once the first team members arrived at the casualty location, she was quickly assessed and appropriate pain relief administered.
"Given the report from the attending [medic] and, together with advice about evacuation by the local farmer, it was decided to request helicopter support from the police."
The helicopter arrived at 1725 BST. Two other women walking with her were escorted down the hill by the rescue team to their car in Strathblane.