Ben Lomond marriage proposal ends in rescue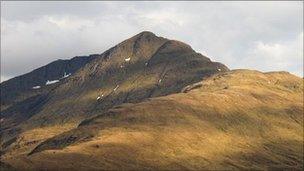 A man's plan to propose to his American girlfriend at the top of Ben Lomond at sunset ended in disaster when the pair of them had to be rescued.
Lomond Mountain Rescue team said four people were making the evening ascent when one of them had become unwell and too exhausted to continue.
The three men and one woman were found on a ridge about 500m from the summit.
All four were able to walk down with the rescue team, reaching Rowardennan at about 0500 BST on Friday.
The rescuers discovered that the climb had been organised for one of the men to propose to his girlfriend.
A rescue team spokesman said the first rescuers had reached the group very quickly after being called out just after midnight. A second party, carrying a stretcher for the casualty, was also sent up the 974 m (3,195ft) Munro in rural Stirling.
The spokesman added: "The outcome of the casualty assessment was that having had a rest, taken on some food and drink, he was in a position to try and walk down.
"At 04.15am, the two hill groups met up at the end of the plateau and together continued down to the waiting vehicles and arrived back at Rowardennan control soon after 5am.
"Having confirmed that the casualty had made a good recovery albeit being very tired, the four friends were free to go home."
Related Internet Links
The BBC is not responsible for the content of external sites.