Noranside open prison in Angus to close in October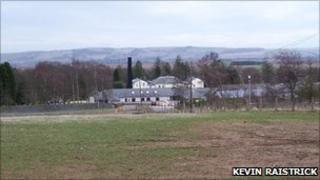 The closure of Noranside open prison in Angus has been officially confirmed by the Scottish Prison Service (SPS).
All prisoners are due to be transferred to Scotland's only remaining open jail at Castle Huntly, near Dundee, by the end of October.
Unions leaders said they were dismayed at the decision to go ahead with the proposed closure.
The SPS said staff would be moved to other prisons or could take voluntary redundancy.
It said the closure decision had been taken because fewer prisoners were meeting the criteria to be held in open prisons.
A proposal to shut Noranside was announced in December 2010, but unions had campaigned to save the jail.
They had claimed Castle Huntly would require major investment to house extra inmates.
However, the SPS said there would be sufficient capacity at Castle Huntly to accommodate prisoners eligible for the open estate.
Reduced capacity
John Ewing, chief executive of SPS, said: "SPS is committed to delivering a modern offender management regime that supports the Scottish government's reducing re-offending agenda and contributes to public protection.
"We now apply the strictest-ever criteria for assessing who is suitable to progress to open conditions.
"This has reduced considerably the capacity requirement for HMP Open Estate to the point where the facility at Noranside is no longer required in its current form and it cannot be used for other prisoner groups."
Mr Ewing said he had not taken the decision to close Noranside lightly, and stressed there would be no compulsory redundancies.
Phil Fairlie, Scottish national chair of the Prison Officers Association (POA), said: "We are dismayed that in spite of the level of support shown for retaining HMP Noranside throughout our campaign that the board have reached this conclusion.
"We remain convinced that Noranside should continue to play a successful role in the management of prisoners prior to being released into the wider community at the end of their sentence.
"Our initial response is to digest the announcement and discuss the outcome with our members at Noranside. This committed group of staff are our first concern."
The SPS said savings made from the closure of the open prison would help support the ongoing improvement of the service.
Noranside has not been full since the Scottish government ordered a tightening of the rules on open prisons, in the wake of the Robert Foye case in 2008.
Foye raped a 16-year-old schoolgirl in Cumbernauld after absconding from Castle Huntly while serving a sentence for attempting to murder a police officer.