Denny town centre demolition work begins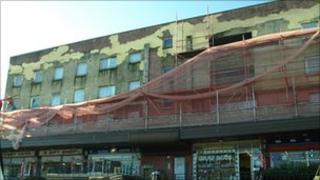 Demolition work is to begin in a rundown town centre as part of its regeneration - seven years after the work was first proposed.
Two blocks on Church Walk in Denny will be partially pulled down over the next 12 weeks, Falkirk Council said.
Work to demolish a further two blocks is scheduled to begin in January 2012 and will also take 12 weeks.
Campaigners in the town have complained fiercely about the repeated delays to a revamp first proposed in 2004.
The protests have focused on the crumbling 1960s Church Walk blocks, which have been described by Denny residents as an "eye sore".
'Long wait'
The first block to be demolished is opposite the town centre's Post Office, though part of the building will be left intact to allow two traders to operate while the regeneration plans are finalised.
Falkirk Council said Davies Row would be closed for about six weeks from 19 September to comply with safety regulations.
Craig Martin, leader of Falkirk Council, said: "It has been a long wait for the town but we are pleased that the local community has persevered and can now see the start of the real work to transform the centre into a modern and attractive location.
"There will be some disruption to traffic in and around the Duke Street and Davies Row areas and but we believe that this temporary arrangement will be worth it in the longer term.
"We have been liaising with the local schools to ensure safe routes to schools are maintained."
But opposition councillors have demanded a more detailed timetable of construction work to be made available to Denny residents.
SNP councillor John McNally said: "It's all very well knocking down a small part of Church Walk and seeking a pat on the back after a four-year delay.
"However, that is the easy part, what the people of Denny want to know is, when we will see construction rather than destruction."