Falkirk war veteran pleads for dog to be spared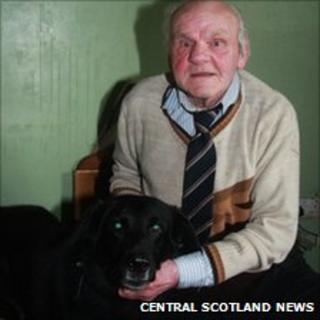 An 84-year-old man has pleaded for a last minute reprieve for his dog which faces being put down by a court order.
Robert Brown, from Falkirk, said he was "totally dependent" on the 11-year-old Labrador for company.
The dog jumped on a five-year-old girl and then bit her outside his flat on 6 December last year.
Brown, a World War II veteran, admitted his pet Levi was dangerously out of control. A sheriff will decide the dog's future on Thursday.
The pensioner, who took over the care of Levi from his grandson who is currently serving in Afghanistan, said dogs have been his only real companion since his wife Bridgette passed away 20 years ago.
He said the incident took place when he allowed a neighbour in to use his telephone, but the neighbour had left the door open, allowing Levi to run out.
"I haven't a clue of exactly what happened as I wasn't there," he said.
"I don't think Levi hurt her too bad but I've felt terrible about what happened.
"My only two real loves in life are children and dogs, and I can't imagine what I'll do without Levi."
He added: "I'm totally dependent on the dog. I feel like I might as well get the injection with it when it does get put down."
A decision on whether the dog will be destroyed will be made at Falkirk Sheriff Court.