Perth Concert hall ban follows fan abuse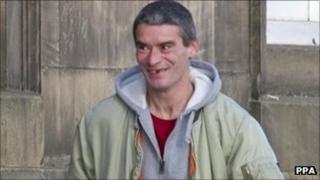 A man has been banned from going within 90ft (27m) of a major concert venue after yelling abuse at fans of an internationally acclaimed musician.
Trumpet player Alison Balsom had just finished a show at Perth Concert Hall when Michael Garry confronted the crowds leaving the venue.
The torrent of abuse from the 38-year-old prompted many them to call the police.
Garry, from Perth, admitted breaching the peace on 22 September.
Perth Sheriff Court heard that he swore at the concert-goers and shouted that he would "kick them all in". He was arrested on Thursday evening and kept in custody overnight.
'Aggressive behaviour'
Sheriff Kenneth Hogg was told that Garry lived a street away from the popular venue.
Sentence was deferred and a special bail condition imposed that Garry should not go near the hall.
Sheriff Hogg said: "You will not go within 30 yards of the concert hall. You are not to go near it when people are coming in and out. If you are caught there, doing something, you will be brought back here and sent to jail."
The court was told that people were concerned by Garry's aggressive behaviour towards them as they left the hall after the finale of Balsom's show.
Solicitor David Holmes, defending, said: "He meant no disrespect to the patrons of the concert hall. He had seen two people he hadn't seen for some time and it was to them he was directing his comments.
"He was assaulted some time ago in the presence of these two persons. He felt these people had not intervened on his behalf when they should have done.
"It was the first time he had seen them since. The first comment was directed towards them. As fate would have it the people from the concert hall were leaving at that time."
Sheriff Hogg told Garry: "For no good reason you decided to abuse people. Whether or not it was the people you were talking about, there were others around who were totally innocent and you were abusing them."
Trumpet virtuoso Ms Balsom was recently crowned 'Female Artist of the Year' for the second time at the Classic Brits and is an internationally renowned artist.
The 32-year-old has also been honoured with numerous awards by Classic FM, Gramophone and Echo Klassik, and was performing Handel and Vivaldi in Perth on Thursday.