Beauly-Denny powerline plans 'ineffective'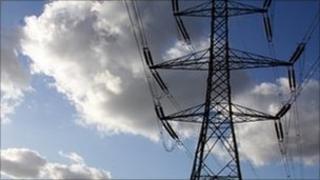 Stirling Council has formally rejected plans to reduce the visual impact of the Beauly to Denny powerline as "inadequate and ineffective".
Scottish Power had been ordered to work with the authority to mitigate the effect of pylons around Stirling.
The company maintains it can meet its conditions by painting and planting - rather than burying the line.
The council's response, which follows a full council meeting, will now be submitted to the Scottish government.
Ministers approved the 440kv power line upgrade in January 2010. It will consist of a network of 600 pylons and connect renewable power generated in the north of Scotland to the national grid.
Original proposals to limit the visual impact of the overhead line, which passes east of Stirling, were roundly rejected by the local community.
In March, Scottish Power was ordered to look again at the plans for Stirling.
Plans 'unchanged'
But the company has repeated its position that undergrounding would be too expensive and delay the project.
Stirling Council's formal response to Scottish Energy Minister Fergus Ewing was agreed at a meeting of the full council. It reaffirmed the authority's "preferred options" for burying the line.
Callum Campbell, chairman of the council's power line steering group, said in the letter: "SPT's [Scottish Power's] proposals remain largely unchanged from their previous consultation proposals, which had been rejected by Scottish ministers in March 2011".
The councillor added: "There is real public concern that the latest visual mitigation proposals by Scottish Power Transmissions remain wholly ineffective and unsatisfactory.
"Stirling Council's position remains that undergrounding of the power line is the only effective means of mitigation, and this has been reiterated to Scottish ministers."