Man targeted Orange stores in iPhone scam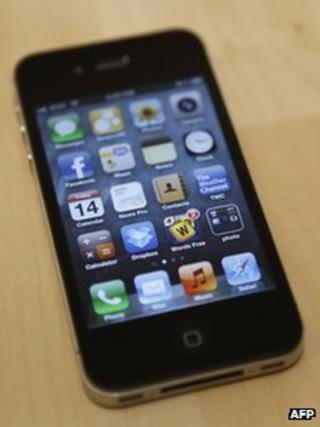 A drug runner who admitted being paid to tour the country obtaining iPhones by fraud for an organised crime gang has been jailed for eight months.
And Emmanuel Richson could face much longer behind bars after a sheriff ruled that the parole board in England should also be informed about the scam.
Richson had just completed a lengthy prison term for drug running when he was recruited by the gang.
The 42-year-old, from Sunderland, was caught at a store in Perth.
Now the parole board will have to consider whether to return him to prison to serve the unexpired portion of his original sentence.
Sheriff Lindsay Foulis told him: "You were just out from a seven-and-a-half year sentence and you were part of a clearly well thought out fraud."
Perth Sheriff Court was told that Richson claimed he was going to be paid £800 for his part in the scam to obtain the £400 phones from branches of the Orange chain.
He has now been banned from every Orange mobile phone shop in the UK.
Stolen bank card
Detectives across the country have been alerted to the crime gang's plans to target mobile phone stores for the sought-after Apple handsets.
Officers have been informed that several shops have already been hit by members of the gang which is being operated from the north-east of England.
Richson, who was caught in Perth while pretending his name was Paul Williams, is the first member of the Sunderland-based gang to be jailed for fraud.
At Perth Sheriff Court, Richson - a known cocaine importer - admitted forming a fraudulent scheme in concert with unknown others to obtain goods by fraud.
The court heard that he had presented a bank card and statement in the name of Paul Williams to a member of staff at Orange on 28 September, in a bid to deceive the Perth store into handing over an iPhone.
'Became tempted'
The documents are believed to have been stolen at an earlier date.
Staff at the store became suspicious about Richson and contacted the police. The court was told that Richson was out on licence for a drug smuggling sentence at the time.
He was convicted at Isleworth Crown Court in London on 28 June 2007 of importing a large quantity of cocaine and was sentenced to 90 months jail, and banned from travelling for two years.
Solicitor David Holmes, representing Richson, told the court: "He did give a lengthy account to the police, accepting his involvement. He pled guilty straight away.
"He had accommodation lined up and required money for a deposit and that is how he became tempted to get involved on this one occasion."