Michelin Dundee announces jobs boost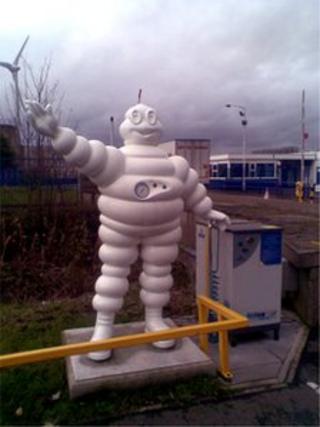 Tyre manufacturer Michelin has unveiled details of a multi-million pound investment at its factory in Dundee.
The company said it would safeguard hundreds of jobs in the city and create 140 new posts.
French-owned Michelin is Dundee's biggest industrial employer, with 750 people working at the factory.
The plant in the city will receive about £5m of funding from Scottish Enterprise through a regional grant scheme.
As well as the extra jobs, the investment is likely to mean seven-day working at the factory. About a quarter of the new posts will be in engineering.
New production machinery will be installed at the Baldovie Road plant which will enable it to make the latest generation of car tyres, Michelin said.
The company is currently investing £50m in its UK operations.
First Minister Alex Salmond said: "In the last three years the workforce in Dundee has taken the Michelin plant to the top of the ranking in virtually every assessment across the Michelin group.
"To be able to win this great investment in the most difficult of economic circumstances speaks volumes for the quality of the Scottish workforce and the track record speaks for itself."