Man admits Loch Lomond 'drink-boating' offence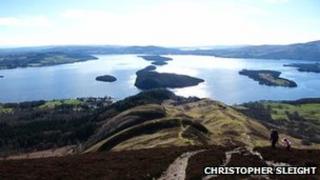 A man was so drunk behind the wheel of a boat on Loch Lomond he almost fell off the pier when police went to speak to him, a court has heard.
Andrew Kelly, 38, is believed to be the first Loch Lomond boater to be convicted under "drink-boating" rules.
Police approached him after his boat was towed to shore by concerned park rangers when he ran out of fuel.
Kelly, of Castlemilk, Glasgow, admitted refusing to provide a breath specimen. He was fined £450.
Stirling Sheriff Court heard Kelly was on the loch in his father's 18-foot cabin cruiser, with a young child and dog also aboard, on 17 July 2011.
A witness contacted police at about 20:20 because he considered the motor cruiser's behaviour suspicious. Park rangers also received a call from a member of the public about the boat.
Slurred speech
Brent Bissett, prosecuting, said: "They [park rangers] noticed the boat meandering in the middle of the loch, and approached the boat in question.
"They observed the accused driving the boat, and he was stationed at the wheel. There were two adults on board, and one juvenile along with a dog.
"The accused stated he hadn't been driving. A few minutes later the accused's boat ran out of fuel. It was towed back to a boat yard, where police were waiting."
Mr Bissett told the court that police questioned the accused and noticed he smelled strongly of alcohol and his speech was slurred.
"They said he was so unsteady on his feet that he almost fell off the pier into the loch," he added.
Kelly tested positive in a breath test at the lochside, but refused to provide a second breath specimen "without reasonable excuse" after he was arrested and taken to Central Scotland Police's headquarters in Stirling.
Defence agent Philip Cohen said his client did not "take issue with the narration of the Crown".
Sheriff Iain Fleming said: "I regard this as a serious matter and failing to provide a specimen of breath while trying to navigate a vehicle is unacceptable."