Killer Norman Fraser 'left body to watch football'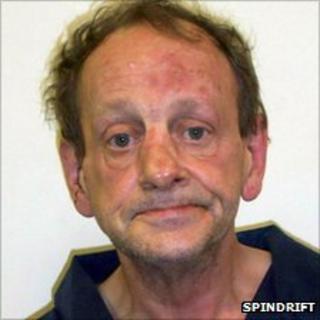 A killer left his victim lying in his living room to go and watch the Champions League final on TV, a court has heard.
Norman Fraser murdered Michelle McCue during an attack at his home in Grangemouth, Falkirk, in May this year.
The 58-year-old later visited a friend and told him: "She's dead. If it wasn't for the Champions League, I would report it."
He denied the murder charge, but was convicted after a week-long trial.
The High Court in Glasgow heard that Fraser was arrested 48 hours after the killing. Fraser - nicknamed Fuzz by friends - claimed the 46-year-old had fallen after a struggle.
The jury heard how Miss McCue, from Slamannan in Falkirk, had gone to meet a friend at Fraser's home in Almond Street, Grangemouth, on 27 May.
Miss McCue was eventually alone with Fraser, who later attacked her.
In his speech to the jury, prosecutor Douglas Fairley said she was subjected to a "violent and prolonged attack" including hitting her with a mop handle.
Fraser went to visit a friend the next day, leaving the dead body lying in his home.
He told the other man: "She hit me over the head with a bottle. She's dead. If it wasn't for the Champions League, I would report it."
Fraser is thought to have then watched the Barcelona and Manchester United clash on TV that Saturday evening.
The next day, friend Stephen Richardson visited Fraser who told him that Miss McCue was dead. Mr Richardson then went into the property where he discovered the body.
The witness told the court: "I gave her a nudge. Nothing happened. I then got hold of my dog and decided to get out."
'Criminal past'
In a statement to police, Mr Richardson said Fraser had looked "non-plussed".
Paramedics were called to Fraser's home where he was found sitting in his chair smoking. Miss McCue had suffered 87 bruises as well as blows to her mouth.
Mr Fairley added: "He left the body for about 48 hours. It was stone cold by the time paramedics arrived.
"On the Sunday evening, he is still sitting calmly in his chair smoking - what kind of person does that?"
It emerged that Fraser has a criminal past stretching back to 1970. He has a high court a conviction for robbery and has also been jailed for fraud.
More recently, he has been in court for police assault and breach of the peace involving a knife.
He will be sentenced next month.