Sticky tape assault officer George Stewart found guilty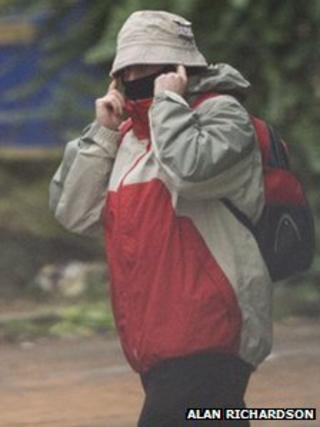 A police officer who wrapped sticky tape round the head of a bail hostel worker after handcuffing her has been found guilty of assault.
George Stewart handcuffed Arlene Pattie in the "crucifix" position during the attack at Dundee's East Port House in July last year.
The former PC, who denied the assault, was ordered to pay Mrs Pattie £1,000 in compensation.
His co-accused, PC Shirley Tindall, was found not guilty.
The attack took place after the two officers had gone to the bail hostel to arrest a resident on 20 July 2011.
During the four-day trial, Stewart claimed the incident had been part of a "flirty" relationship with Mrs Pattie, 47, and said he was "gobsmacked" that a complaint had been made.
But Sheriff Richard Davidson branded him as "unprofessional" and "juvenile".
Dundee Sheriff Court heard Stewart, who has since resigned from Tayside Police, wrapped sticky tape around Mrs Pattie's head over her glasses, hair and nose - leaving her "hysterical".
The hostel worker told the trial she had vomited as soon as the police officers left because of the trauma of the attack.
She said she had been placed in a "crucifix" position by Stewart after he "twisted" her arm up her back and then handcuffed it to a window frame.
Stewart then borrowed a pair of cuffs from fellow officer PC Tindall to handcuff her other arm.
'Absolutely petrified'
Mrs Pattie told the court she had been "absolutely petrified" and "completely humiliated" by the attack.
"He was sitting on the desk playing with the roll of tape," she said.
"He then started rolling it round my head. It was down over my nose - that was what frightened me the most."
Advocate Susan Duff, defending Stewart, told the court that her client had "lost his life's purpose" because of the incident.
"Not only was policing his career, it was his life and he is now left without it," she said.
"He is deeply apologetic for having caused Mrs Pattie such upset."
In an hour-long verdict speech, Sheriff Davidson said PC Stewart's co-accused PC Tindall had "not told the truth" during her evidence.
But he decided the handcuffing did not form part of an assault on Mrs Pattie - and PC Tindall's only part in the incident had been to hand her cuffs to Stewart.
Of Stewart, he said: "Your behaviour was wholly unprofessional and juvenile.
"On this particular occasion you lost all sense of proportion and responsibility - I don't know what you were thinking.
"Your behaviour has an unfortunate reflection on other officers of Tayside Police and that's perhaps the most unfortunate aspect of this case."