OAP Matthew Fagan sexually abused young girls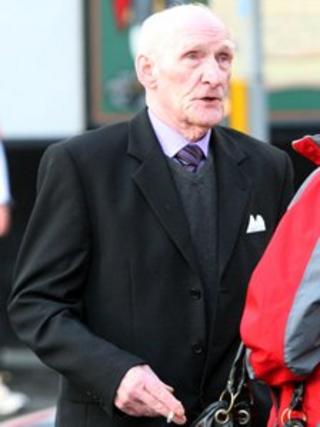 An 83-year-old great grandfather is facing a jail term for sexually molesting two young girls.
A judge rejected a bid to keep first offender Matthew Fagan, from Tillicoultry, out of prison because of his age and refused him bail.
The former miner had denied committing a series of sex offences at houses in his home town.
He was put on the sex offenders register and will be sentenced next month.
At the High Court in Edinburgh, Lord Pentland told Fagan he was considering jailing him.
"You stand convicted now by the verdicts of the jury of two offences of serious sexual abuse of children," he said.
Fagan's defence counsel Lorenzo Alonzi asked for the pensioner to be kept out of prison while a background report was prepared on him before sentencing.
But the judge said he was not willing to continue bail due to the seriousness of the convictions.
Tickling games
Fagan, a first offender, was found guilty of indecency offences against two girls, but was acquitted of the attempted rape of one of them and of abusing a third girl on not proven verdicts.
He abused one primary school pupil more than 15 years ago and committed sex acts against the child.
He also used indecent behaviour to another child between 1999 and 2003, beginning when she was aged three, on two occasions.
Fagan claimed he had never touched the second girl in his life, but the victim said he had taken her hand and placed it on him.
He said he had played tickling games and incy wincey spider while babysitting one of the girls, but maintained there was no sexual inclination in his behaviour.