Adam Alexander body search near field 'disturbance'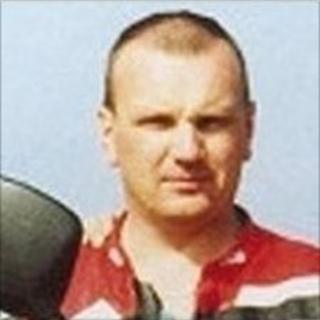 Police have begun digging in a field in the search for the body of a man killed 13 years ago after noticing a "historic disturbance" in the soil.
Adam Alexander was killed in 1999 by his friend Thomas Pryde, who attacked him with a metal pole after a row.
Pryde was jailed in 2010 after admitting culpable homicide, but Mr Alexander's body has never been found.
Officer have repeatedly searched an area near Errol in Perthshire in the hunt for the remains.
A spokeswoman for Tayside Police said Mr Alexander's family had been informed of the force's latest activities.
She said: "This is part of an ongoing search to locate the body of Adam Alexander.
"This is not based on any new information or intelligence but has been brought on by the view of the ground when it was at its lowest vegetation point.
"This has identified some signs of historic disturbance which we are now investigating."
Pryde, who ran a plumbing business in Scone, Perthshire, was jailed for 10 years in April 2010.
The father-of-one was finally brought to justice after confessing to his wife during a drunken holiday row years later.
He said that he had gone to Mr Alexander's home in Errol to discuss a business deal but a row had broken out.
Pryde then said he had "lost the plot" and picked up a metal bar before repeatedly hitting his victim until he died. He told the court he had panicked before hiding the body.
Pryde told officers where he buried the body but a large-scale search in 2008 failed to find any trace of Mr Alexander.