Perth drug addict used girls to shoplift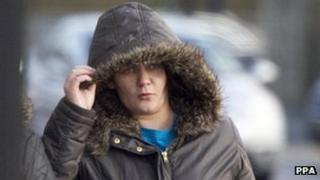 A drug addict who made two girls aged under seven shoplift for her has been banned from every store in Perth.
Jessie Hendry used the children to steal DVDs from a shopping centre so she could sell them on to pay for her drug habit.
The 30-year-old also admitted stealing a suitcase from Matalan and filling it with almost 50 items of clothing.
A sheriff told her she had an "appalling" record, but deferred sentence to try an alternative to jail.
Sheriff Marion McDonald said: "[You] have had a considerable number of custodial sentences which don't appear to be working. I am going to give you one opportunity to try an alternative method."
She released Hendry on bail with a condition banning her from entering every shop in Perth, apart from the chemist where she gets her methadone prescription.
Fiscal depute Carol Whyte told Perth Sheriff Court: "She was in HMV along with two young girls. She was seen to remove security tags from DVDs before giving them to the children to conceal."
Drug offending
Hendry, from Perth, admitted stealing two DVDs from HMV in the St John's Shopping Centre in Perth on 8 July 2011. She also admitted shoplifting in Matalan in Perth on 16 January this year.
Ms Whyte said Hendry picked up an empty suitcase from the display and went around the store filling it with both adult and children's clothing before trying to leave.
"The suitcase contained a total of 49 items of clothing. The total value of the items was £389 and there was full recovery," she told the court.
Solicitor Cliff Culley, defending, said: "She is conscious she has got a terrible record. Her previous drug offending has been partially down to her drug addiction."
He told the court that Hendry wanted to address her addiction and said her drug worker had seen a "change in her attitude".
"She does appreciate that if she does get a chance and then goes on to reoffend she will be sent back to prison," he added.
Hendry had sentence deferred until next month and was freed on bail on condition that she stays out of any retail premises in Perth.