Budget boost for Alva pool sold for £1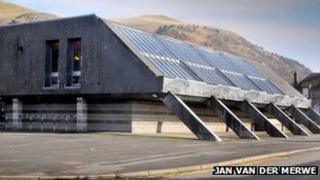 Scotland's smallest local authority has given £250,000 to a group hoping to save a swimming pool councillors wanted to demolish last year.
Clackmannanshire Council allocated the money to Ochil Leisure Enterprises (OLE), which plans to reopen Alva pool.
The community group bought the pool from the council for £1 after it was condemned in last year's budget cuts.
Perth and Kinross, Dundee, Angus and Falkirk Councils have also been setting their budgets for 2012-13.
Councillors in Clackmannanshire announced that they were going to demolish Alva pool last year as part of a plan to save £8m, but it was taken off the authority's hands after a local campaign to save the leisure facility.
The £250,000 that OLE will now receive includes £100,000 promised in November by the council to help the group run it for the community.
A spokesman for the organisation said the funds would enable it to cover costs like staffing and energy bills - and allow OLE to apply for grants with "match funding" clauses.
'Close partnership'
He added: "The money is an example of how Clackmannanshire Council and OLE are working in close partnership to deliver on the shared objectives of 'creating jobs and wealth - improving health' for the communities of Clackmannanshire."
Setting its budget for 2012-13, Clackmannanshire Council said its expenditure would be £120.5m over the coming year, with savings of £2.7m found through "efficiency measures".
Falkirk also set a revenue budget of £344m and committed to a council spending programme of about £63m over the next three years, with a further £89m invested in council housing.
Perth and Kinross Council highlighted a £62m investment in schools during the next five years as it agreed its budget. The council said it was able to save more than £4m last year.
Dundee City Council said it had increased spending in social work by £4.4m "to help adults, older and younger people" as part of its £357m budget.
All three local authorities froze council tax for the fifth year in a row.