Car crashes through wall into Alloa bungalow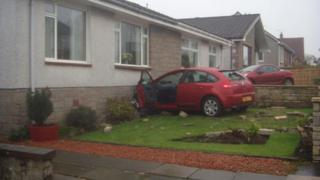 A bungalow has been seriously damaged after a car careered off the road and ploughed through a wall before hitting the building.
The woman lost control of her red Citroen C4 and hit the elderly couple's home in Alloa, Clackmannanshire, at about 10:25.
No-one was injured in the collision, which happened in Norwood Avenue.
Firefighters had to shore up the front of the property before removing the car at about 11:45.
One man, who witnessed the crash and asked to remain unnamed, said: "The house is seriously damaged, to the extent that they will require experts to see if it requires to be demolished and rebuilt."
Central Scotland Fire Service said there was initial concern over the safety of the elderly couple living in the property, but a a spokesman confirmed they were not injured. The couple in the car at the time were also uninjured but left "badly shaken".
None of those involved have been named.
Firefighters assessed the damage caused to the house to try to make it safe for those living there, but it was discovered there was "structural damage".
Central Scotland Police said no other vehicles were involved, and that they were continuing inquiries into the crash.