Cancer 'smart bomb' plant in Grangemouth opens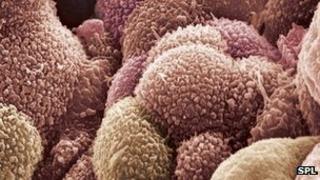 A new drugs plant in Grangemouth producing cancer "smart bombs" has been officially opened.
The new cancer drugs - called ADCs - have been approved for use in the US and could soon be licensed for the European market.
About 85 people are working at the factory, which is run by pharmaceutical giant Piramal.
The plant was upgraded following a grant from Scottish Enterprise of £145,000.
ADCs are said to "hunt out" and kill cancerous cells, and so have been dubbed "smart bomb" drugs.
Deputy First Minister Nicola Sturgeon said: "I am delighted to be officially opening Piramal's latest state of the art suite - and see first hand the manufacture of the only licensed cancer drugs of this kind in the world.
"These new drugs will be reviewed for a European licence soon - providing an opportunity for them to be considered for use in the NHS in Scotland ahead of the rest of the UK."
About 15 jobs have been created by the opening of the new manufacturing suite.
Terry Cooke, from Piramal, said: "We're very excited about this new class of anti-cancer medicine that we manufacture here at Piramal Healthcare in Grangemouth and we all take great pride in the fact that they are so effective in saving peoples lives.
"This visit by the deputy first minister to open our new manufacturing suite is fantastic recognition of the work that's done here and complements the invaluable support we've received from Scottish Enterprise."