East Plean school blaze teen faces jail term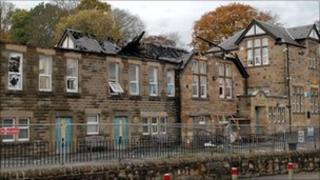 A teenager who started a fire which caused millions of pounds worth of damage to a primary school has been told he could be sent to prison.
Andrew Stretton, 18, used a lighter to set fire to a cardboard box in a wooden equipment shed next to the school in November 2010.
The blaze spread rapidly to the main building at East Plean Primary School, near Stirling.
Stretton, from Port of Menteith, admitted causing the fire.
Stirling Sheriff Court heard that despite the efforts of 40 firefighters, the Victorian school was so badly damaged that officials decided it had to be demolished.
More than 16 months later, the school's 160 pupils are still studying in temporary classrooms in a nearby field, and Stirling Council surveyors now estimate the total cost of the blaze is in excess of £5m.
Rapid spread
Lindsey Brooks, prosecuting, said the incident occurred on 6 November 2010, when Stretton went into a shed next to the school at about 19:00, with two boys aged 12 and 15.
The depute fiscal said: "The shed was used by a nursery to store equipment for the children - toys and such like.
"It was not structurally connected to the school but very close to it.
"While in the shed he set fire to a cardboard box and that very quickly led to the shed itself going up in flames, which very quickly rose and set fire to the rest of the school."
Mrs Brooks said guttering on the school seemed to have caught fire first, and by the time firefighters arrived the blaze was "extensive and ongoing".
Reduced charge
Stretton admitted what had happened to his mother and told her he did not mean for the fire to spread like it did, the court heard.
He then called the police and admitted his involvement when asked about it, but said his friends had "also been involved".
The court was told his friends had already been dealt with under the Children's Reporter system.
Stretton had originally been accused of starting the fire wilfully, but his plea to a reduced charge of culpable and reckless conduct was accepted by the Crown.
Virgil Crawford, defending, said he would reserve much of his speech in mitigation for a sentencing hearing that was set for 18 April.
He said: "The cost of damage is uncertain but I wouldn't dispute it's a significant cost. However, it is unclear whether the decision to demolish the school was made for other reasons."
Deferring sentence for reports, Sheriff Wyllie Robertson warned Stretton he could face custody.