Glenochil sex offenders complain over cell sharing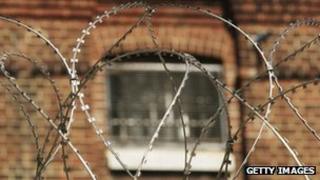 Sex offenders have been bombarding prison bosses with complaints about having to share cells with other sex offenders, according to a report.
A prison inspection revealed there had been a "disproportionate" number of complaints about "doubling up" in a segregated sex offenders wing.
The finding came after an inspection of Glenochil Prison in Clackmannanshire.
In October 2010, 150 sex offenders were transferred from HMP Peterhead to Glenochil's Harviestoun Hall wing.
'Strict separation'
HM Chief Inspector of Prisons Brigadier Hugh Monro found "fair progress" has been made at the prison since the last full inspection in 2010, but said the impact of the transfer of sex offenders from Peterhead has been "considerable".
The inspection report stated: "There is very strict separation of these prisoners from others within the regime and this causes restrictions particularly in terms of access to activities and programmes.
"Inevitably each of the two different populations perceive that they have lost out. Overcrowding has become more acute since the original inspection and the instances of 'doubled up' single cells in Harviestoun Hall caused a disproportionate number of complaints to inspectors."
Sixty-four cells are doubled up in the Harviestoun wing and 26 in the Abercrombie Hall wing. The inspectors said that the practice should only occur for the "minimum length of time".
Further transfers
Commenting on the report, Brigadier Monro said: "I've noted that the progress made is largely satisfactory given the significant change in the prisoner population.
"There are two distinct prison populations now, and the strict separation requirements complicate the regime, causing restrictions in terms of access to activities and facilities."
Overcrowding had become "more acute" since his last visit, he said, and added: "The arrival of sex offenders from Peterhead has complicated the situation and needs to be addressed in light of the further tranche due to transfer from Peterhead in the near future."