Opera star Lesley Garrett joins Arbroath Male Voice Choir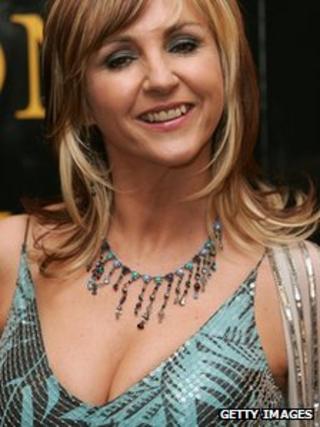 One of Britain's best-loved sopranos agreed to join a choir in Angus for two concerts after a chance meeting in a corridor.
Douglas Cant, from Arbroath Male Voice Choir, met Lesley Garrett backstage at the BBC Last Night of the Proms concert in Dundee's Caird Hall.
She later agreed to sing two concerts with the 47-strong group.
Both the events, on Thursday and Friday evening at Arbroath's Webster Theatre, have been sold out for weeks.
Ms Garrett told BBC Scotland she had been "sneakily listening" to the choir rehearse at the theatre and thought they were "fantastic".
She said she would be singing a mixture of songs during the concerts, some on her own and others with the choir.
"There'll be opera of course. I'll be doing some Puccini, some Tchaikovsky, possibly a bit of Dvorak.
"But then there's going to be songs from the shows - Gilbert and Sullivan - all kinds of different material. Just lovely, lovely music. A real mixture and the same from the boys."
The singer added: "I have to say it's my first time in Arbroath and I'd certainly come back if I was asked."
'Extremely exciting'
Mr Cant was singing in the BBC Proms chorus at the Caird Hall when he approached Ms Garrett in a corridor backstage.
"She just said 'you see my agent' - so I did and the rest is history," he said.
The 56-year-old singer has performed all over the world in a musical career that has spanned opera and pop. She has also released 11 solo albums.
The choir's president, Dr Richard Irvine, said it was "extremely exciting" to have such a star joining them for the concerts.
"It's a very rare opportunity to sing with someone with the calibre of Lesley Garrett and we're very very honoured," he said.