Sixth resident dies of flu at Orchar Nursing Home in Broughty Ferry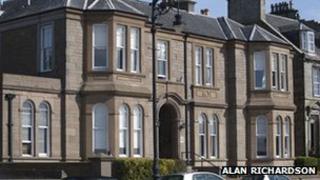 A sixth person has died in an outbreak of a flu virus at a nursing home in Dundee, it has been confirmed.
NHS Tayside said 27 residents at the Orchar Nursing Home in Broughty Ferry were known to have been affected by the influenza A virus.
The health board had previously said that a man aged 74 and four women aged 81, 88, 90 and 91 died on Sunday 25 and Monday 26 March.
It has now been confirmed that a sixth person died overnight.
NHS Tayside's Health Protection Team is investigating the outbreak along with Tayside Police.
On Saturday, a police spokesman said officers were investigating the full set of circumstances surrounding the deaths.
The health board said: "All appropriate infection control measures have been put in place in the care home and there is no increased risk to the wider public."
The NHS Tayside statement added: "Where appropriate, residents have been offered antivirals, which can reduce the severity and infectiousness of influenza in those affected.
"Relatives who are visiting sick residents are being asked to take extra infection control precautions while at the care home.
"Influenza A infection usually causes relatively mild symptoms but it can be a very serious illness among the elderly or those with chronic health problems, therefore people should be aware of the simple measures they can take to reduce the risk of infection.
"These include always covering your nose and mouth when sneezing or coughing, disposing of tissues quickly and frequently washing hands with soap and water."