Scottish gamekeeper guilty of wildlife crime after trapping owl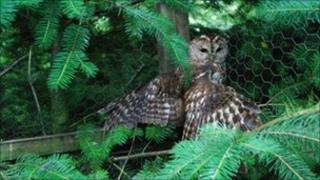 A Kirriemuir gamekeeper has admitted illegal trapping an owl in a cage trap.
Robert Christie, 58, of Lindertis Estate, Airlie, pled guilty to the offence, which occurred in 2010, and was admonished at Forfar Sheriff Court.
The tawny owl suffered an injury to its beak and was extremely thin as the trap contained no food.
The bird received immediate vet treatment and has been released successfully back into the wild.
Cage traps are large wire enclosures with a funnel which a bird flies down into and cannot escape.
They are typically used to control carrion crows to protect livestock and fruit and vegetable crops.
The trap did not contain food or shelter, and a tray of water contained green algae.
It also did not have an identification tag, all contrary to the terms of the general licence.
Scottish SPCA Chief Superintendent Mike Flynn said: "Cage traps are widely misused, either through poor management or ignorance.
"The trap which Christie was responsible for failed to meet the legal requirements of the Scottish government's General Licence.
"Christie pled ignorance to such conditions, which is shocking given he was an experienced gamekeeper."