First taste of spring for safari park's new lion cub Libby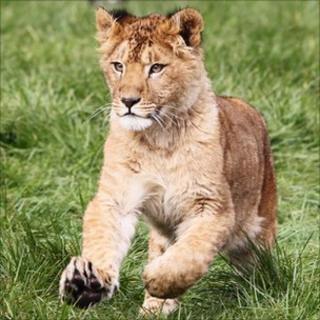 A safari park's newest lion club has experienced her first taste of spring after she ventured outside at Blair Drummond.
In September, Libby became the first cub to be born for a decade at the wildlife park, near Stirling.
Her mother Teekay and father Dudley looked on as the young lion played in the fresh air.
The park has seven lionesses, including Libby, and one male lion.
Lionkeeper Brian Reid, who named the cub after his own daughter, said: "Libby the lion jumps on her dad Dudley and plays with him - just the same as my wee Libby."
Mr Reid, who has worked at the park for 19 years, said Libby had been accepted by the other lions and was proving a hit with visitors.
"She has been mixing great with everybody and is playful with the rest of the pride," he said.
The mild winter has led to a baby boom at the park, where five other new animals will be on display this year.
Angus the rhino, Marvin the meerkat, Dylan the donkey, Levi the kangaroo and Oscar the marmoset were all born during its winter closure.