Loch Lomond and Trossachs National Park crackdown under way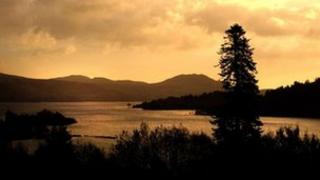 An operation to tackle anti-social behaviour around Loch Lomond and the Trossachs National Park is getting under way.
Operation Ironworks is in its fifth year and has been credited with improving the park's environment.
Police patrols from three forces will work with park rangers to target problems such as littering and irresponsible fires.
The operation will last six months, through the peak holiday periods.
Recent changes to local by-laws have banned alcohol consumption in certain areas, and camping outside official camp sites between 1 March and 31 October.
Central Scotland Police, which is leading the campaign, said it had so far had a big impact, with a noticeable reduction in anti-social behaviour.
There has also been a decrease in damage to trees and litter being dumped.
Ch Insp Kevin Findlater said: "This is the fifth year of Operation Ironworks and we are keen to build upon the success of previous years.
"Last year saw the introduction of by-laws on East Loch Lomond. These by-laws, combined with significant improvements to infrastructure and the patrols by rangers supported by police officers made a huge difference to the area, with a marked reduction in anti-social behaviour.
"It was noticeable that many families returned to the area as they felt that it was a safer place to visit and enjoy."
He added that work was also carried out in Balloch Castle Country Park, the west side of Loch Lomond and the islands and the Trossachs which led to a decrease in damage to the environment and a reduction in the fear of crime.
High-visibility patrols
Bridget Jones, national park visitor experience manager, said: "The national park is already starting to get busy with visitors being brought out by the early burst of sunshine.
"It is great to be able to provide support and work alongside the three police forces that cover the park area to ensure our visitors feel safe and welcome when enjoying Loch Lomond and the Trossachs and the wide range of opportunities it has to offer."
High-visibility patrols will be carried out by officers on foot and in vehicles.
Operation Ironworks is being run in partnership with Loch Lomond and the Trossachs National Park, Forestry Commission Scotland, Strathclyde Police and Tayside Police.