Castle Huntly inmate wrote 'love letters' to prison officer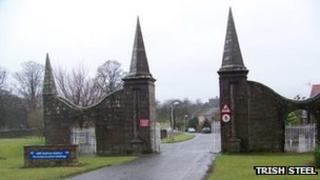 Police found love letters apparently sent by an inmate in a prison officer's bedroom after they raided her home and found the pair naked in bed together.
Christine Robertson was discovered with James Holland after he absconded from Castle Huntly open prison last March, a court has heard.
Officers then searched the 45-year-old's flat in Monifieth, Angus, and found the letters.
Ms Robertson denies helping Holland abscond from the prison.
The documents found by police included several letters apparently sent to Ms Robertson by Holland, a note on a piece of paper autographed for Holland by Formula One legend Jackie Stewart in Saughton prison, and cards stating "I love you".
Police also found a small black diary in Robertson's bedroom drawer titled: "Jimmy Boy's diary 2010/11/12/13".
Sergeant Scott Finlayson, who took part in the search, told the third day of a trial at Dundee Sheriff Court about the contents of the letters.
The collection of letters included love notes and spoke frankly about Holland's life of violence.
In the letters, Holland also told of his tears over Ms Robertson and even urged her to phone him on a mobile phone smuggled into jail - giving her the number.
One of the letters was even addressed to Ms Robertson care of her work address at Castle Huntly prison.
Sergeant Finlayson told a jury that one of the letters contained the sentence: "One thing I so love about you is your eyes. You've got the nicest eyes I've ever seen. Don't get cheeky now or I'll have to take you hostage and spank your peachy wee bum."
Another read: "Well my wee baby cakes this here card is to tell you that you're a gorgeous special girl.
"You know that I fell in love with you the second I seen you all those moons ago. The day at the chip shop I will carry with me forever."
The court was shown a string of letters - some up to six pages long - in which Holland confessed his violent history, vowed to stay clean of drugs and continually said he "missed" Robertson.
In one he urged Robertson to phone him on an illicit mobile phone, writing: "Mind phone me at 10.30pm on Thursday - here's the number. Mind buzz.
Taser gun
"I know you're not meant to have phones and stuff but let your hair down and buzz me next Thursday."
He also wrote: "As you and I know we are just a close warder prisoner relationship."
The trial has already heard how police received intelligence that Holland was at Robertson's Angus flat - before breaking down her door in a planned operation to locate him.
When they burst in they found Holland and Ms Robertson naked together in her bed. Holland then had to be blasted with a Taser stun gun to subdue him as he waved a knife at officers.
Ms Robertson denies aiding and abetting James Holland in absconding and attempting to defeat the ends of justice. She has lodged a special defence of coercion in the case.
The trial, before Sheriff Tom Hughes and a jury, continues.