Fatal microlight crash pilot Adrian Paterson had no licence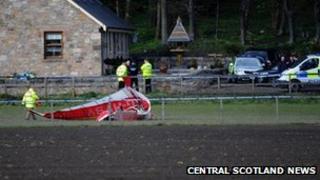 A man who died when the microlight he was flying crashed in Clackmannanshire did not have a pilot's licence, officials have confirmed.
Adrian Paterson, 49, from Clackmannan, was killed on Thursday when his aircraft plunged into a field in the nearby village of Kennet.
The incident is being investigated by the Air Accidents Investigation Branch.
The Civil Aviation Authority (CAA) said Mr Paterson was unlicensed and the microlight unregistered.
CAA records show a "No Flight" declaration was made on the microlight on 18 February 2011 - something which is done when an aircraft is not insured and the owner has declared it will not be flown until evidence of insurance is produced.
A spokesman for the CAA said: "According to the records on the system the aircraft was de-registered, which would mean that it should not have been flying.
"The Air Accidents Investigation Branch [AAIB] is carrying out an inquiry into the incident and we will assist wherever possible in relation to the aircraft's registration history."
The spokesman added: "We can confirm that Adrian Paterson appears not to have had a licence."
The 23-year-old Gemini Flash microlight crashed at about 14:15 on Thursday. Paramedics were called to the scene but could not revive Mr Paterson.
Mr Paterson was flying alone and no-one on the ground was injured in the crash. Anyone with information about the incident is asked to contact Central Scotland Police.
The AAIB investigation into the crash could take several months to complete.