Prison officer feared Castle Huntly inmate may 'rape or stab' her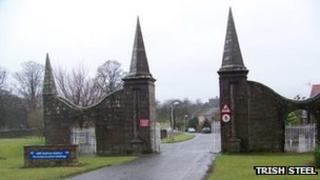 A prison officer accused of harbouring a "dangerous" criminal who had absconded from an open prison has said she feared he was going to rape her.
Christine Robertson was found naked in bed with James Holland at her flat in Monifieth, Angus, the day after he went missing from Castle Huntly jail last March.
But she told a court he had tricked her into meeting him after he absconded.
The 45-year-old denies aiding and abetting Holland.
In a trial at Dundee Sheriff Court, Ms Robertson admitted she had exchanged letters and text messages with Holland while he was in jail - but claimed she only did so after he threatened her.
The prison officer said Holland had become "infatuated" with her but insisted the feeling was not mutual.
She told her trial that on 16 March last year someone phoned her telling her that her friend had been involved in an incident in nearby Broughty Ferry.
Ms Robertson said she had got in her car to go to her friend's aid but had been unable to find him. She said Holland then appeared.
The prison officer told the court she had agreed to take Holland to a bail hostel in Dundee when he said he had no money, but had driven back to her flat with him to get cash when she realised she would run out of fuel.
When they got to her house she said she told Holland to stay in the car but moments later he appeared in her hallway.
The officer said Holland then went into her kitchen and took a knife from a block.
She added: "I feared the worst - that he would stab me or rape me."
She said she tried to reason with him for two hours, before he became angry and told her: "Go through to the bedroom and strip off."
Ms Robertson said she then lay in bed for more than six hours until Holland entered the room for the first time just as police burst into the flat to arrest him.
Fiscal depute Douglas Wiseman asked Robertson: "Why didn't you tell the police about any of this at the time?"
She replied: "They didn't ask."
The court was shown cards and texts sent by Ms Robertson to Holland, including one text that said: "I really really like you".
Mr Wiseman asked the prison officer: "I put it to you that in fact you were well aware that he had absconded and were party to him being present in your house and you didn't object to that at all. Isn't that right?"
She said: "No."
Coercion' defence
The trial has already heard how police received intelligence that Holland was at Robertson's Angus flat - before breaking down her door in an operation to find him.
When they burst in Holland and Ms Robertson were naked together in her bed.
Holland then had to be shot with a Taser stun gun to subdue him after he waved a knife at officers.
Ms Robertson denies aiding and abetting James Holland in absconding, and attempting to defeat the ends of justice. She has lodged a special defence of coercion in the case.
The trial, before Sheriff Tom Hughes and a jury, continues.