Man admits to Blairgowrie car smashing spree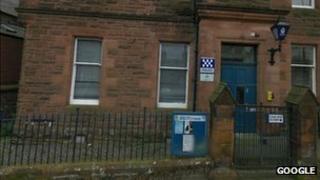 A father has been locked up after he admitted smashing up three cars that were parked outside a police station.
Ewan Grant, 21, was remanded in custody for reports after a sheriff told him his drunken behaviour was "outrageous".
Sheriff Robert McCreadie warned Grant he would have to pay the total bill for the damage he caused to the cars by smashing their windscreens.
The vandalism, on Ericht Lane in Blairgowrie, Perthshire, took place on 11 April.
Fiscal depute Stuart Richardson told Perth Sheriff Court: "This happened in the car park opposite Blairgowrie police station, where I presume the car owners thought it would be safe to park."
Mr Richardson said he did not have a total cost yet for the damage as the crimes only happened a week ago and the owners would still be pursuing insurance claims.
'Outrageous' actions
Solicitor David Holmes, defending, said: "What we know about this incident is that he went to assist his mother, as he regularly does, by letting the family dog out.
"He seems to have become involved then with some neighbours who were quite new to the area and alcohol was taken to excess. He does not remember any of this."
Mr Holmes told the court that Grant, who has a seven-month-old daughter, had been drinking vodka and may have downed a full bottle during the evening.
Sheriff McCreadie said: "You cannot do something as outrageous as this and expect the court to take a lenient view.
"It is beyond belief. He will pay back every last penny of the damage. I am not going to put him back in the community at this stage."
He refused bail and remanded Grant in custody until next month for reports.