John Kennedy murder: Police in Dundee appeal for help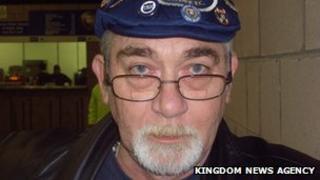 Police have appealed to the friends and family of the killer of a 63-year-old Dundee man to "do the decent thing" and contact the authorities.
John Kennedy was killed at his house in Mossgiel Crescent on Sunday evening.
Police said a man wearing a dark hooded top was seen leaving the area at around the time of the incident.
They confirmed that Mr Kennedy sold cigarettes and tobacco from his home and said they were seeking information about frequent visitors to the house.
Emergency services were alerted by neighbours who heard a disturbance at Mr Kennedy's house in Mossgiel Crescent at around 22.15 on Sunday.
They found him with serious injuries and despite their attempts to revive him, he was pronounced dead at the scene.
Det Insp Gary Ogilvie said: "Somebody knows who has done this. It may very well be that the person responsible has confided in someone they know.
"I would remind them that a well-liked 63-year-old man has been killed as the result of a vicious and frenzied attack and that the person responsible should face the full force of the law."
He added: "It is highly likely that the person responsible was in a very agitated or an anxious state after what they have done and it is unlikely that their demeanour will change.
"If you know who has done this, do the right thing and contact the police."
Cigarettes
Det Insp Ogilvie also confirmed that Mr Kennedy sold cigarettes and tobacco from his home, and while this information was not the focus of the enquiry, it could help assist them in finding Mr Kennedy's killer.
He said: "We know that there were many people that came and went from his house to buy tobacco and cigarettes and we are appealing to them to come forward and tell us what they know in relation to who they knew was a frequent visitor to that address.
"Most importantly, we want to know who was at that address on the day Mr Kennedy was murdered."
Officers are continuing their door-to-door enquiries. Forensic examination at the property is also ongoing.
Police said there would be an intensive search of the Linlathen area, with officers searching open land, gardens, garages and bins.
A review of CCTV coverage in the area is continuing and the Home Office Large Major Enquiry System (HOLMES) has been set up to support the investigation.