Paul Booth threw rock at car on A9 while on bail for causing explosion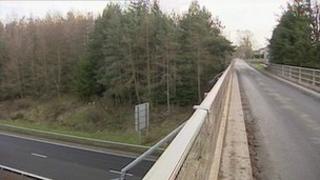 A 20-year-old man who threw a rock onto the A9 which hit a car carrying a baby has been sent to detention for three years.
Paul Booth, who has Aspergers, hurled the rock from a flyover near Perth in December last year.
The High Court in Edinburgh heard that at the time he was on bail for causing an explosion which injured a pregnant teenager, Melissa Sangster.
He had previously admitted two charges of reckless conduct.
In August last year Booth set fire to a handbag containing aerosols. The bag exploded injuring pregnant Ms Sangster, who was wearing denim shorts with bare legs.
She suffered burns to about 25% of her body and was in hospital for three weeks.
While on bail for that offence Booth threw a rock on to the A9 in Perth.
The court heard that on 21 December last year he picked up the stone and hurled it onto the road, hitting a Toyota Land Cruiser below which was carrying a baby.
The rock smashed the windscreen of driver Lyn Bruce's car - which was travelling at 60mph - with her 13-week-old son protected from the glass by only a cover.
Booth's defence advocate Ronnie Renucci blamed a mixture of bravado, drink and Booth's mental health and medical difficulties for the offences.
Booth suffers from Aspergers syndrome, attention deficit and hyperactivity disorder, obsessive compulsive disorder and Tourettes.
Mr Renucci said: "There may have been an element of bravado and his judgement was clouded by drink."
Sending Booth to detention, Lord Bannatyne said he was taking the 20-year-old's medical problems into account.