Police make fresh appeal in John Kennedy Dundee murder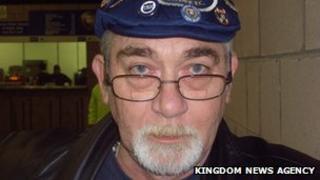 Police have reassured anyone who visited the house of murdered Dundee man, John Kennedy, that detectives are only interested in catching his killer.
Mr Kennedy, 63, sold cigarettes and tobacco from his home in Mossgiel Crescent, in Linlathen where he was found dead on Sunday evening.
Police said any information about frequent visitors to the house could be vital to their investigation.
Items of interest to the murder enquiry have been recovered.
Police said the items were recovered as part of the intensive search activity in the area and will now undergo forensic examination.
Mr Kennedy was killed in a "vicious" attack at his home at around 22.15 on Sunday.
Emergency services were called after neighbours raised the alarm but Mr Kennedy was pronounced dead at the scene.
A man wearing a dark hooded top was seen leaving the area at the time of the incident.
'Good progress'
Det Insp Gary Ogilvie said: "We know that people are talking in the local area and with reporters about what they knew of the comings and goings at Mr Kennedy's address.
"Those people need to know that the information they have could be of enormous value to our investigation and, if they haven't already spoken with our officers, they should get in touch immediately."
He added: "I'm not the least bit interested in who did or didn't buy cigarettes from that address.
"I am concerned with catching a killer and the information that is out there will help us to make strides towards that."
Police said murders were uncommon in Dundee and sought to reassure people in the local area that their investigation was making progress.
Det Insp Ogilvie said: "We are making good progress and the work undertaken since Sunday has resulted in us recovering numerous items of interest to the enquiry.
"These items will now be subject to further forensic examination as a matter of priority."
Search activity is continuing in the Linlathen area, with officers searching open land, gardens, garages and bins.
Ch Insp Shaun McKillop said the heavy police presence in the local area would continue.
He said: "It has been plain for all to see that there has been a significant police presence and intense police activity in the area throughout this week. That will not change."
Ch Insp McKillop added that there would be additional officers placed in the area to reassure residents and to help with the investigation.
He said: "When incidents such as this happen we understand and share the community's concerns.
"But they should know that our enquiry team is making solid progress and that our officers are in their communities and will be there for as long as it takes."
Police said that if members of the public did not want to speak to officers face-to-face, the could contact the authorities by phone or on the Tayside police facebook page.