Scottish council election: SNP takes overall control in Angus and Dundee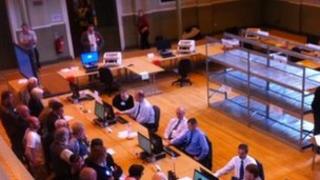 The SNP has secured what it described as "historic" majorities on Dundee and Angus Councils in the local elections.
They are the first councils where the party has won an overall majority under the current electoral system.
The SNP won 16 of the 29 seats in Dundee, with Labour securing 10 councillors. The Lib Dems and the Conservatives each won a single seat.
The Nationalists secured 15 of the 29 seats in Angus.
The council now has eight independent councillors, four Tories, one Labour and one Liberal Democrat.
The Conservatives, Labour and the Liberal Democrats each saw their numbers reduced by one in Angus.
Meanwhile, the Lib Dems were wiped out in both Clackmannanshire and Stirling Councils.
The party previously had one councillor in Clackmannanshire and three in Stirling.
Both the SNP and Labour seemed to have gained from the shift away from the Lib Dems in both local authorities.
In Clackmannanshire, both Labour and the Nationalists secured eight councillors, with the Conservatives on one.
The result means that no-one has overall control of Clackmannanshire, the smallest mainland local authority.
In Stirling, the SNP managed to win nine seats, compared with Labour's eight and the Conservatives' four.
Mark Ruskell, for the Scottish Greens, also seemed to benefit from the Liberal Democrats' misfortune, securing his party's first seat on Stirling Council.
No single party took overall control of Perth and Kinross Council. The number of SNP councillors remained unchanged at 18, while the Conservatives lost one seat to take 10 overall.
Again, the Liberal Democrats failed to hang on to all their councillors, losing two to leave them five in total. Labour managed to gain a seat, securing four overall.
There was little change in Falkirk, with no-one in overall control of the local authority.
Labour is the biggest party with 14 seats, followed by the SNP, which has 13. The Conservatives won two seats.
· All the latest election results are available at bbc.co.uk/vote2012