Tayside Police step up John Kennedy Dundee murder inquiry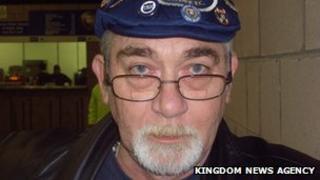 Police investigating the murder of Dundee man John Kennedy are stepping up their inquiries, one week after his death.
Mr Kennedy, 63, was found dead at his home in Mossgiel Crescent at about 22:15 on Sunday 29 April.
Detectives and uniformed officers will be out in force in the Linlathen area in an effort to gather new information in the hunt for his killer.
They plan to quiz residents and passers-by later on Sunday.
Tayside Police said they had already gathered "a wealth of information", but hoped to collect further details from the local community which could help identify the killer.
Det Insp Gary Ogilvie said: "The information that people have given us to date, along with our own intensive inquiries, has gone a long way towards building a picture of what happened on the night of Mr Kennedy's murder.
''But the community still has more information to give up and we will be taking that appeal directly to them on Sunday night.
"I know that they share our determination in catching the person responsible and ensuring they are put before the courts."
'Heavily bloodstained'
He added: ''I am certain that the killer was heavily bloodstained when they left Mr Kennedy's home and that someone will be aware of that fact, but they have so far chosen not to come forward.
"I would suggest that their loyalties are misplaced - they should do the right thing and contact us."
Last week, police announced that the time frame for the murder of Mr Kennedy had narrowed.
A witness said they were at Mr Kennedy's house at 21:00 on the night of the attack.
Police still want to speak to other visitors to his address, from where Mr Kennedy used to sell cigarettes and tobacco.
About 50 officers have been involved in the murder inquiry including detectives, uninformed officers and scenes of crime teams.
They have been supported by a CCTV team and staff working on the Home Office large major enquiry system (Holmes).