Michelin Dundee to temporarily suspend production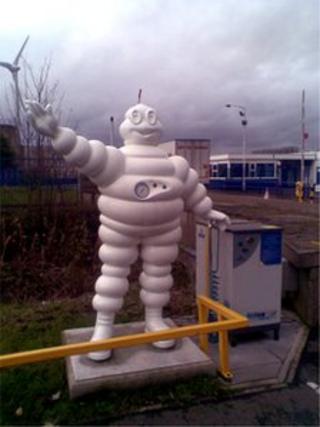 Scotland's only tyre manufacturer is to temporarily suspend production at its factory in Dundee.
Michelin said the decision was taken in response to the economic situation in Europe and the mild winter, which hit demand for specialist tyres.
Output at the plant will be reduced while production will cease altogether for three weeks at the end of May.
The company said some planned holiday shutdowns in July and August would also be extended.
In a statement, Michelin said the impact on employees would be limited, although it admitted that the pace of investment at the site would be slowed.
The announcement follows the decision six months ago by Michelin to invest £50m in UK operations and to create another 140 jobs at the site - Dundee's biggest industrial employer.
The company said: "Whilst the strategy for the factory remains growth and the introduction of new tyre making machines, which will allow the plant to make the tyres of the future, the current market conditions have led Michelin to slow its investment in the Dundee plant to better match the growth now foreseen in these markets.
"This change will not impact on jobs in the factory but will delay some of the investment plans announced in 2011 during the next five years."
Michelin, which produced its first tyre in Dundee in 1972, currently employs 860 staff at the plant.