Call for improvements to fight infections at Forth Valley Hospital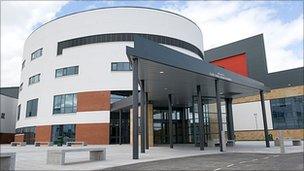 Staff at the new Forth Valley Royal Hospital have been told to improve the accessibility of alcohol hand gels to keep infection rates down.
A visit by the Healthcare Environment Inspectorate (HIE) also found that more attention was needed when equipment shared by patients was being cleaned.
The improvements were called for following a visit by inspectors on 3 April.
NHS Forth Valley said it had an action plan to address the issues.
The inspectors also made three recommendations to boost data for patients and staff.
The recommendations included displaying information on caesarean section infection rates in the maternity department.
The team also said the managers should consider how action plans to fight the bloodstream infection Staphylococcus aureus bacteraemias (SAB) are followed up.
Finally, inspectors said consideration should be given to how staff ensured shared equipment, such as beds stored in a central location, were cleaned and made ready for use.
The inspection followed an earlier self-assessment by Forth Valley Royal Hospital.
Susan Brimelow, HEI chief inspector, said "We are assured that NHS Forth Valley is making good progress against standards to protect patients, staff and visitors from the risks of acquiring a healthcare associated infection.
"The wards and departments inspected were clean and there is ongoing work to improve the management of patients with severe infection, particularly blood stream infections.
"However, we also identified areas for improvement, including a need to increase the availability of alcohol hand gel in clinical areas."
A spokeswoman for NHS Forth Valley said: "We are pleased that the report recognises the progress which has been made to further reduce the risk of infection and found a good standard of cleanliness in all of the areas visited.
"It also highlighted a number of improvements in staff education, training and compliance with key infection control policies.
"We took the decision not to provide hand gel beside every bed because of the risk of ingestion by children and some adults however hand gel is available at the entrance to all wards, departments, patients' rooms and sinks.
"All staff are also given an individual bottle of alcohol hand gel."
The £300m Forth Valley Royal Hospital opened to its first patients in 2010.
Related Internet Links
The BBC is not responsible for the content of external sites.