Loch Lomond 'booze cruise' passengers rescued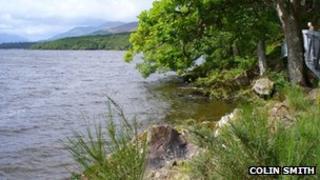 Seven people have been rescued from a boat drifting dangerously close to rocks on Loch Lomond in the early hours of the morning.
Police said those on board the motor cruiser were under the influence of alcohol.
The boat had no power, and there were not enough life-jackets.
A 41-year-old man has been arrested and charged in connection with being under the influence of alcohol while in charge of a boat.
He is also accused of failing to carry sufficient life-jackets.
The coastguard and police were alerted to the incident at about 01:00 when the boat, a 23ft Cleopatra Class motor cruiser, was drifting dangerously close to the rocky shore near Balmaha Pier.
Luss Rescue Boat was called out and drafted in help from National Park Rangers on their patrol boat who towed the stricken vessel to shore where police checked the condition of those on board.
Water temperature
Sgt Davie Hannah of Central Scotland Police said: "This could have had a very different ending. It is only through good fortune and the skill and dedication of the volunteer rescue service that this boat did not run aground and people did not end up in the water.
"Those on board were under the influence of alcohol and there were not enough life jackets for everyone.
"Despite the recent hot spell the water temperature of Loch Lomond is still cold and is only around 10C.
He added: "We are not trying to stop people from having fun but they should do so without risking lives and in accordance with the published by-laws. Every boat owner has the responsibility to ensure that there are sufficient life jackets for all passengers."