Man skips community service order for Jeremy Kyle appearance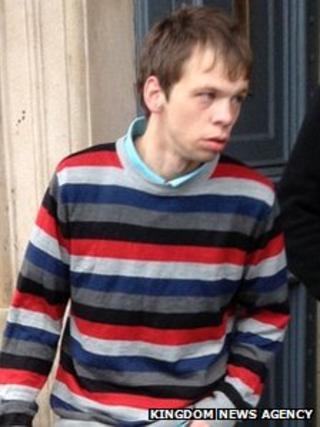 A man is facing jail after appearing on the Jeremy Kyle Show instead of carrying out a community service order.
Alister Lamb, 23, from Dundee, was ordered to carry out 200 hours of unpaid work in November last year as punishment for housebreaking.
However, by April this year, Lamb had only carried out one hour of the work, claiming he had been busy filming for the television show.
He said he appeared on the programme in a bid to gain access to his daughter.
Lamb was convicted, along with another man, of breaking into a flat in Dundee's Whitfield Avenue in February 2011.
They stole a television, an Xbox console, ornaments, a train set and a toilet seat.
In a report submitted to Dundee Sheriff Court outlining the breach of his community service order, social workers said: "It would appear that Mr Lamb has not afforded his orders due priority, which is evidenced by his continued failures to attend.
"His most recent evidence to cover absences was an appearance on TV, namely the Jeremy Kyle Show.
"He reports that he now has access to his children, which he contributes to his recent appearance on the Jeremy Kyle Show."
The case was heard late on Thursday after Lamb failed to attend when the matter was initially called at 09:30.
Lamb's absence prompted Sheriff Tom Hughes to issue an arrest warrant. Lamb then appeared in the dock at 10:40, but was told the case would be heard at a later date.
Not aired
Outside court, Lamb said he had enjoyed his time on the Jeremy Kyle programme.
He said: "I wasn't that good, I was really nervous. It was a good experience though.
"I watch the Jeremy Kyle show on the telly, so I thought I'd phone them.
"I was trying to get access through the lawyers, but I thought I'd try this instead."
A spokeswoman for the Jeremy Kyle Show said the episode Lamb was involved in has not yet been aired.